The creative development process is intense. It requires vision on the part of both the creative agency and the client to identify great concepts and turn them in to winning ads.
Whilst market research can be a real asset during this process, it actually has a reputation for undermining – and even killing – great creative work.
Whilst this may be true it definitely won't happen with Brandspeak.
We have an advertising and communications background so we know the pitfalls that can befall advertising research - and just how to avoid them.
For example, we know how important it is for the research agency to develop a detailed understanding of the underlying creative concept before the project kicks off – or risk delivering findings and recommendations that are irrelevant and unhelpful.
We also know how important it is for the agency to distinguish between respondents' reactions to that concept and their reactions to its execution - or risk throwing the baby out with the bathwater.
Finally, we know that it's not the job of respondents – or the research agency - to recommend 'creative enhancements' or give creative material a 'pass' or a 'fail'.
Of course, we won't shy away from delivering hard truths but we'll always be constructive and resist the temptation to act as Creative Directors!
Our research approach captures both spontaneous, System 1 reactions as well as the more considered, System 2 feedback. It will assess your stimulus material against a number of criteria that could impact ad cut-through, including:
Involvement
Comprehension
Emotional response
Message relevance, recall and outtake
Enjoyment
Branding
Brand fit
Differentiation
Recall
Brandspeak's advertising research tools include a range of qualitative, quantitative and neuroscience approaches to enable you to maximise the impact of your ad.
Perhaps you are devising new content for your website. Maybe you are compiling new product brochures. Or perhaps you are drafting a critical customer service letter.
The content you present and the way you present it can have a significant impact on your customers' impression of your brand, meaning that it has the ability to negatively affect levels of customer acquisition, retention or satisfaction.
All the more surprising then, that content is frequently launched without any prior input from the customer!
Brandspeak specialises in print and online content research and optimisation. Our qualitative / quantitative approach considers issues such as:
Visual appeal
Layout and navigation
Clarity of content: words, images, font
The relevance and impact of individual messages
Key message outtake
Key questions arising
Strength of any proposition
Brand personality
Point at which consumer disengages – and why
Strength of call to action
In our debrief we'll identify all the issues, as well as the nature of the fixes that are required. We'll also do the redrafting for you should you need us to.
In short, we'll give you everything you need to optimise your content prior to going live.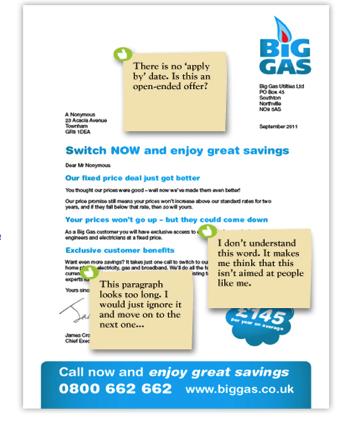 Simulated Sticky note tool for print research
Research ToolKit
Maximise your brand's performance in advertising.
Our research toolkit is comprehensive! It contains all the latest tools and techniques, as well as lots of old
favourites. Whatever your project, we have the research solutions to provide the answers you need.