Perhaps you are a B2C company devising new content for your website. Maybe you are a B2B company compiling new product brochures. Or perhaps you are drafting a critical customer service letter or mailshot.
The content you present whether it is print or digital has a significant impact on your customers' impression of your brand, meaning that it has the ability to negatively affect levels of customer acquisition, retention or satisfaction.
All the more surprising then, that content is frequently launched without any prior input from the customer!
Brandspeak specialises in print and digital market research and optimisation, using a range of qualitative, quantitative and neuromarketing approaches to evaluate critical issues such as:
Visual appeal
Layout and navigation
Clarity of content: words, images, font
Relevance and impact of individual messages
Key message outtake
Key questions arising
Strength of any proposition
Brand personality
Point at which consumer disengages – and why
Strength of call to action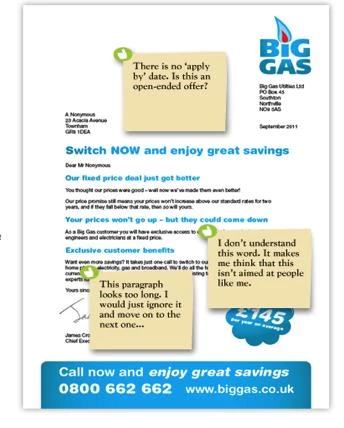 In our debrief we can identify all the issues, as well as the nature of the fixes that are required. We'll also do the redrafting for you should you need us to.
In short, we'll give you everything you need to optimise your content – and your impact - prior to going live.
Contact Brandspeak market research to find out how we can optimise your communications to get the results your company wants.